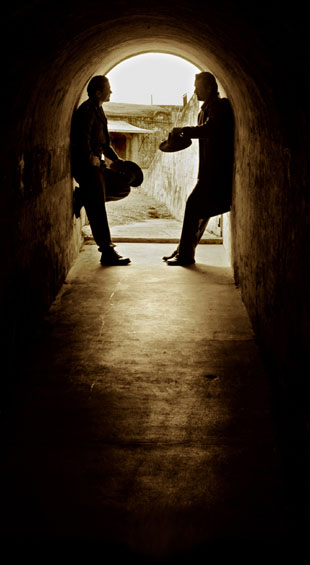 Starring Kazuya Wright, Peita McCulloch, Darren Taylor and Barbara Baugh. Written & Directed by Jason Kempnich.

Stewart (Kazuya Wright) and Hannah (Peita McCulloch) were your typical young couple searching for their dream home until a freak encounter at an old house saw a long expired life flash before Stewart's eyes, as if it were his own.

Violent, unpredictable memories and a hauntingly familiar face (Darren Taylor) drive Stewart to solve this mystery for the sake of his own sanity.

"Unfinished Business" explores the consequences of an ill deed, seemingly long forgotten.

Unfinished Business is set simultaneously in modern Australia and in 1945 immediately after World War II. It explores a returning soldier's life, ruined by the actions of a once trusted friend, in what was to become a common scenario for all too many returning Diggers: life had moved on without them.

Shot and produced in Brisbane, Queensland Australia, "Unfinished Business" is Yarnmaker's first in-house production. Running at 7:50, this short film is currently available for use by film festivals, special events, distributors and broadcasters in most markets.

» Want to know more?
» Would you like to have this film play at your event?
» Need our print-ready electronic press kit for your publication?
» Then Contact Us!

OFFICIAL SELECTION: New Filmmakers New York 2007, Underexposed Film Festival 2007, Zion Film Festival 2007, Horror Fest UK 2006, Berks County Film Festival 2006, Queensland Short Film Festival 2006, Shockerfest International Film Festival 2006, The H.P. Lovecraft Film Festival 2006, Hell's Half Mile Film & Music Festival 2006, Rome International Film Festival 2006, Calgary Fringe Film Festival 2006, Victoria Festival of Motion Image 2006, 12th Annual Brainwash Drive-in Movie Festival 2006, Redfest 2006.

» FAST FACTS
Title: Unfinished Business
Length: 7:50
Status: Available for festivals & distribution
Source gauge: Super 16mm (16:9 master)
Release gauge: Most video formats, widescreen (16:9 full frame and 4:3 letterboxed standard definition)
Release: February 2006
More information: IMDB entry
Summary: Set concurrently in 2005 and 1945, Unfinished Business dramatically explores the consequences of an ill deed, seemingly long forgotten ...
» RECENT NEWS
Unfinished Business receives ACS Cinematography Awards
NEWS: November 20, 2006. Yarnmaker's first film receives two ACS Awards for Cinematography... MORE
Portable Film Festival win
NEWS: October 24, 2006. Unfinished Business wins Filmmakers Choice award at the Portable Film Festival... MORE
Unfinished Business comes home to Queensland
NEWS: October 24, 2006. After spending many months touring overseas film festivals, Yarnmaker film Unfinished Business will finally come home to Queensland... MORE
First two awards for Unfinished Business and Yarnmaker
NEWS: October 15, 2006. Brisbane short film Unfinished Business has been honoured with two awards from two different film festivals... MORE
H.P. Lovecraft, Hell's Half Mile, Underexposed
NEWS: September 22, 2006. Three more US film festivals for Unfinished Business.. MORE
Extracted from full site news.