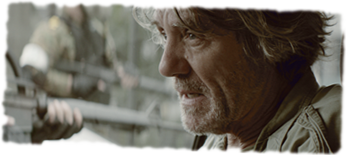 Starring Robert Coleby, Christopher Sommers, Natalie Trent and Dan Eady.
Cinematography by Graeme McMahon. Music by Davin Patterson. Written and Directed by Jason Kempnich.
Civil liberties are yesterday...
Food shortages during a year-long pandemic force recently widowed George (Robert Coleby) to stray far from home to survive. A simple purchase of rations derails when George stumbles upon a Shopkeeper's (Christopher Sommers) secret, placing all of them in mortal jeopardy.
Cough is a 10 minute short film from Yarnmaker. It features stunning Visual Effects from newly established Brisbane VFX house RoyaleX.
Filmed in Ipswich and South East Queensland, Australia, Cough is Yarnmaker's and Writer/Director Jason Kempnich's third film.
Cough is distributed by Drama Club Films.
» Want to know more?
» Would you like to have this film play at your event?
» Need our print-ready electronic press kit for your publication?
» Then Contact Us for how we can help you!